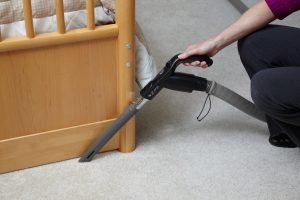 Central vacuum systems have proven to be very beneficial in the home.  They are convenient, practical and most importantly, save a lot of time and space.  Central vacuum owners no longer have to find a place for their giant upright vacuum, or lug it around the house, and up and down stairs.  When it comes to central vacuums, you can simply pull the hose right out of the wall in the room you are cleaning.
If you are a central vacuum owner, it is important to ensure that your system is running to its fullest capacity.  If you are in need of service, we can help.  Our Long Island central vacuum experts can help repair all brands of central vacuum systems, including Vacuflo and Hide-a-Hose.  We also offer same-day professional service.
Our central vacuum repairs include a thorough power-unit check to ensure that your central vacuum system is running at its best.  We also check any hose lines for leaks or clogs, replace your motor and inspect any central vacuum accessories.
Want to fix your central vacuum on your own?  Not a problem.  Our Long Island central vacuum experts are happy to help and can help walk you through the process over the phone.
If you are looking for replacement parts or accessories, look no further than our central vacuum parts online store.  We provide parts and accessories for all major central vacuum brands.
With over 40 years of experience, we have been providing central vacuum service to customers throughout the Long Island area.  We are happy to assist our customers with same-day service at their home or in our store.  If you have any questions about your central vacuum system, or need repairs contact our experts today.